Happy Valentine's Day - a bit early
We have pictures! These are from Valentine's Day last year. Through his amazing computer genius, Josh has gotten us to the next level of blogging. Last year on the V-day, he was busy planting a new tree for us courtesy of Friends of Trees (you'll have to check back later to see how/if it blooms this year!) :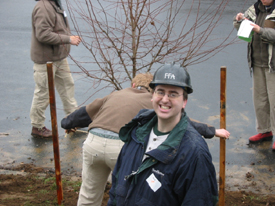 Josh and his tree and shameless plugging for FFA!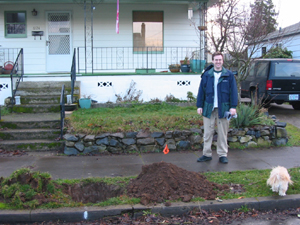 One of the many good things about Friends of Trees is they dig the hole for the tree.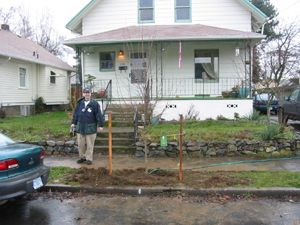 The finished product - its a flowering crabapple of some sort, but in its first year it was a bit short on crabapples and flowers. We're hoping for a bit more of both this year!

This time last year, I was working on finishing up a quilt for my mom, shown here as modeled by Melo: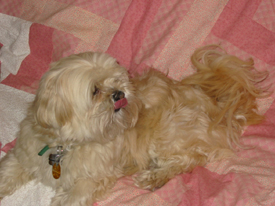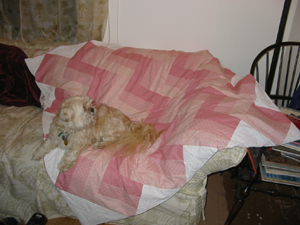 It was my first (and to date only) quilt with the blocks set on point. It was a simple 3-rail pattern I learned in one of the PCC quilt classes. Chrissie and I are looking forward to Lynn coming back as the PCC quilt teacher - we need a break from all the piecing of the $5.00 quilt class at Connecting Threads!

The day before Valentine's Day this year was very exciting as well. After spening most of the morning not being able to figure out exactly what we wanted to do or where, if anywhere, we wanted to go, we gave Jenn, Rob and Jack a call and decided to try out Tad's Chicken & Dumplings. The best fried chicken and dumplings in the world, at least that I have ever had! It is a bit of a Portland institution, and is right at the beginning of the Old Scenic Highway leading to Multnomah Falls and into Columbia Gorge. Had the weather been a bit better, and had we not totally gorged on yummy food, we might have made it to Multnomah Falls for a visit. Maybe next weekend.

We also played the good samaritan today, led by Josh, who found a stray/lost dog in the neighborhood. The dog was a huge (175 lb+) husky/wolf looking guy who was gray about the muzzle and a bit stiff, likely due to hip arthritis or the like. After he spent some time on tied up on our porch in the hopes his owners would come looking for him, another neighbor recognized him as someone's pet just as the animal control officer showed up. (I learned that the Oregon Humane Society doesn't take lost dogs directly. Instead, they refer you to your local animal shelter). I was a bit heartsick that this nice, albeit wolf-looking dog, might not make it back to his owners or another loving home, but it all ended well. (I love happy endings - there really are no other kind!) The doggy was really sweet and loved the dog treats Jack had made for Melo (who only egrudgingly agreed to share).

So, now a year later with a very full belly and all dogs safely home and accounted for, its time to enjoy the last bits of the weekend, try not to think about Monday or work, and count the days til next weekend. Is it Friday yet?